Crime and Safety
Rape Kit Backlog
There are 400,000 untested rape kits in the United States. Students from Los Angeles want to change that. 
Los Angeles School of Global Studies, Los Angeles, CA
Text and Die PSA  
Citrus Ridge Middle School, Davenport, FL
Students advocate for adoption of universal background checks for all gun purchases as a way of preventing mass-shooting incidents.
Naugatuck High School, Naugatuck, CT
---
Gang Violence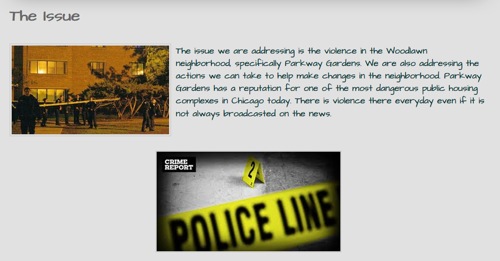 Check out the site Brianna, Jordan, Beatrice, and Steven have created to address the problem of gang violence in the Parkway Gardens apartments in Chicago.
Lindblom Math and Science Academy, Chicago, IL.
Cyber Bullying
Maryland students Katie, Lizzie, Jenny, and Kayla saw that bullying was a big problem in their school. Watch their videos to see how they persuaded public officials to take action on this issue.
Athlon High School, Columbia, MD
Domestic Violence in American Sports
Los Angeles School of Global Studies, Los Angeles, CA
Education

STEM Education Funding

The student created a website highlighting all her civic actions in hopes for the passage of H.R.4366 (STEM) which would increase funding in educational in addition to potentially improving math and science skills in students. She wrote a letter to Representative Elijah Cumming, submitted her article to Teen Ink and made a video compilation of the information she gathered. Everything is on the website.

Athlon High School, Columbia, MD

Homework Policy

The Naugatuck Patch tells what a student from Connecticut is doing to change school policy on homework weighing homework in grades.

Click here to read the article.

Naugatuck High School
Naugatuck, CT

Equal Restroom Initiative


Janelle from Bell Gardens, California, looks into gender equity in the use of campus bathrooms and locker rooms. Watch her video to see her civic actions to raise awareness and to recommend a new district-wide equal-access policy for all students.

Bell Gardens High School, Bell Gardens, CA
Environment

Vacant Lots

Seniors at Loara High School in Anaheim, Ca., investigate converting vacant lots and property into community property.

Climate Change


Reusable Plastic Bags

In this planner, students detail their goal of making reusable bags a common practice. They explain the environmental impact of plastic bags, urge a 10-cent tax to encourage consumers to make the switch, and share online survey results.

Rock Canyon High School, Highlands Ranch, CO

<
Health
Mental Health

Four million children and teenagers suffer from mental health issues every year. See how Cole, Monica, Piper, Sophia and Kylee from Northern California bring mental health issues out of the shadows and on the agenda of officials to provide more funding for school therapists and student education.
San Rafael High School, San Rafael, CA
Immigration

The Dream Act

Immigrants but Still Humans by Nancy G, Deyse A, Vanesa DS, and Leticia J,

Santee Education Complex, CA
Social Justice

Gender Pay Gap
Inglewood Gentrification
Los Angeles School of Global Studies, Los Angeles, CA


Gentrification and Rent Control
Los Angeles School of Global Studies, Los Angeles, CA
Visit the project website.   Download the project brochure.

What is homelessness really like?

Los Angeles School of Global Studies, Los Angeles, CA
Transportation


Highway Speed Safety
Matt, San Marino High School, Calif.
Last modified: Monday, 12 August 2019, 10:19 PM