CAP Essentials for Students
The CAP Planner
The CAP Planner is a set of documents that will guide you through the processes of choosing a problem, taking civic actions, and preparing a report on your CAP. You can access your planners on your dashboard.


A step-by-step guide through the civic action process for students.


Information from the CAP Youth Board and others to help you complete your CAP.


Students from all over the U.S. share and discuss their CAP projects.


The CAPfolio and CAP PSA contests gives students a change to showcase their work and win prizes.



The CAP Youth Board (CYB) consists of students who have successfully completed projects and found CAP to be an excellent way to stay involved and get other students civically engaged.
Thinking about your next civic action?

Need advice about approaching a policymaker?
The CAP Youth Board can help!
Go to: Discuss!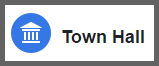 Connecting with your elected officials is a critical step in your CAP project. By simply submitting your street address, Facebook's "Town Hall" provides you with a list of your local, state, and federal elected officials.


Take a look at what show CAP students across the nation are taking action.
Last modified: Wednesday, 24 April 2019, 3:52 AM