Spring 2015 PSA Contest
---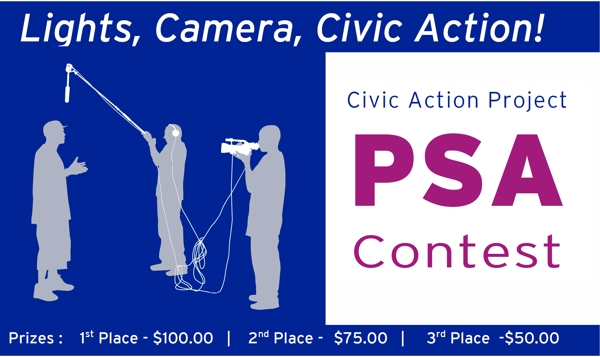 ---
One powerful tool available for creating awareness about your CAP issue or proposed solution is a Public Service  Announcement (PSA). A PSA is intended to raise people's interest in an issue so that they will take action. It is often one of the many civic actions people take when they are trying to make a difference. A CAP PSA should give your audience at least one idea about what they can do to make a difference. Choose your audience wisely. You want to get your message to people who can actually DO something! For example, if you're creating a PSA that urges people to drive safely, then your audience should not be middle school students who can't drive. Remember, by creating a PSA you are taking a "civic action" that will help you move towards the bigger goal of making an impact on your problem or issue.
Guidelines
Create your own PSA that:
Raises awareness on a specific problem or issue,
Influences public attitudes by explaining the connection between the problem or issue and public policy, and
Promotes specific civic action(s) to address the policy implications of the problem or issue.
Eligibility
Students who are currently enrolled or previously enrolled in CAP are eligible to enter.
How to Enter the Contest
All contestants must be registered on the CAP web site to enter the contest.
Log in to the CAP web site (www.crfcap.org) and upload your entry. The deadline to enter is June 2, 2015.
PSA Requirements
A short video (up to three minutes) that follows the guidelines above.
Judging
Entries that meet the assessment criteria will be considered for the following awards:
1st Place $100.00
2nd Place $75.00
3rd Place $50.00
Important Notes
If your submission is larger than 1MB, please submit your entry via a file sharing service and email it to david@crf-usa.org.
Otherwise, entries can be mailed to:
Constitutional Rights Foundation
Attn: David De La Torre
601 S. Kingsley Drive
Los Angeles, CA 90005
If you are having trouble submitting your CAP PSA, please contact: david@crf-usa.org.
Please do not use any copyrighted music, images, or text without the express permission of the copyright owner. For more information about copyright and fair use, please visit www.educateIP.org.
Last modified: Wednesday, 24 June 2015, 10:07 PM