Rationale & Research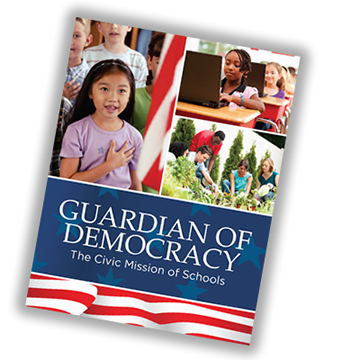 CAP was intentionally designed to support the Six Proven Practices in Civic Education. CRF worked with an advisory team made up of teachers, administrators, researchers, and civic education practitioners to develop CAP and to ensure that the proven practices were deeply embedded in its lessons and in the CAP experience for students.
CAP is different than many other "civic project" models in that its lessons provide key government content that students need to be able to make connections between public issues/problems, public policy, government, and the role that citizens play.
Another difference is that early in the government course students select their issues and dive in to addressing the issues through civic actions rather than just doing research and more research, then developing an action plan, and finally taking action. (A format CRF used for many years prior to CAP.)
CAP uses a more real-world problem-solving approach, allowing students to try out an action and be informed by the results as to what the next action should be. Along the way, they will gain more knowledge about their issues as they research and talk to community members and policymakers, and they will use authentic problem-solving and critical-thinking skills.
The teacher's role is to provide instruction on government content (key content is provided in the CAP lessons) and to act as a coach to provide advice and guidance as students work on their CAP projects. CAP is designed to make sure that students get teacher approval on the issues they select and civic actions they propose to take.
In addition to supporting civic-education research, CAP also provides a blended-learning model. The website is full of student-facing resources that are embedded where teachers and CRF have anticipated students will need them. For example, the CAP Planner requires students to describe how the issue they want to work on is connected to public policy. A video is embedded with that question that reviews five ways to connect an issue to policy, along with a document that provides even more explanation and examples.
CAP is aligned to the Common Core State Standards for English Language Arts & History/Social Studies, Science, and Technical Subjects and supports the C3 Framework's four dimensions.
CAP supports the C3 Framework's four dimensions. CAP provides a real-world project-based learning component for the high school government/civics course. CAP lessons provide essential concepts students need to make connections be tween issues/problems +public policy/government + citizens, as well as tools they need to be able to identify and address an issue that matters to them. CAP lessons make content relevant to students by using real case studies and examples of issues that other students have worked on through CAP.
CAP supports best-practices in service-learning, and is implemented in many high schools as a Senior or "CAPstone" Project.
For a detailed overview of the CAP rationale, research, features, and methods of organizing a CAP classroom, read A Teacher's Introduction to CAP.
CAP Field Test Evaluation
During the 2009-2010 school year, CAP was field-tested at 5 sites in California, Colorado, Illinois, Nevada, and Pennsylvania. Executive Summary | Highlights of the Evaluation
---
Last modified: Monday, 21 June 2021, 3:08 PM